The BerlinBioCube incubator opens in October 2023 for young biotech and medtech companies on the Berlin-Buch Campus.
On five floors, the BerlinBioCube will offer a total of 8,000 square meters of space for modern laboratories, offices, common areas for daily encounters and exchanges, and conference rooms. The building was designed by the architecture bureau doranth post architekten, Munich. The client is Campus Berlin-Buch GmbH, the management company of the Buch research campus. Construction work will begin in August 2020.
The construction of the new BerlinBioCube involves an investment of 55 million euros, around 40 per cent of which will go into technical equipment. The financing is made possible by subsidies from the joint task "Improvement of the regional economic structure" (GRW).
Exposé
Type of real estate object:
Offices and Labs
Floor space:
7,554.46 m²
Net rent:
12.00 €/m²
Ancillary costs:
12.00 €/m²
five-story biotechnical laboratory building S2 standard
opening in IV. quarter 2023
laboratory and office combinations in different sizes
on each floor 2 central sculleries, 8 equipment rooms, 4 cold rooms and 1 gas bottle room
central communication zone
separate freight and passenger elevator
divisible meeting room can be rented on the first floor
Ceiling load 5.0 kN/m²
Equipment:
S2 Standard
Laboratory furniture with laboratory work tables and power supply units
Cooling water and compressed air connections in all laboratories
Sinks, fume hoods and window workstations
Safety cabinets with 24h exhaust air
2 optional gases per laboratory possible
Air exchange rate 25 m³ / m²h in all laboratories and equipment rooms
Floor extraction optional
Data connections in all rooms
VE-water connection in all rinsing kitchens
Central changing rooms and showers in the basement
Other:
Please take note of the explanations regarding the basic rent and additional costs.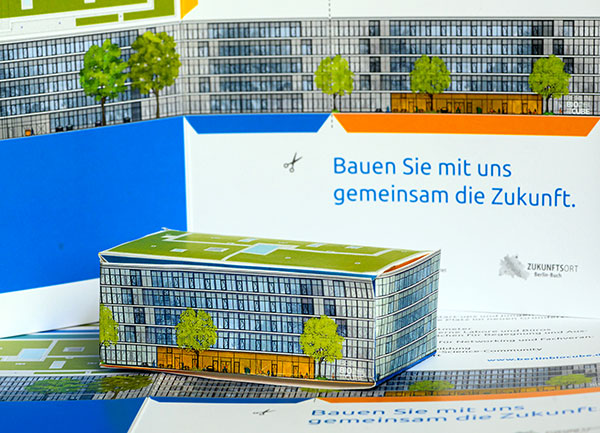 Build the future with us!
You can find the instructions for the paper craft on our
YouTube channel.
You can download the craft sheet
here.
BiotechPark Berlin-Buch
The BiotechPark Berlin-Buch is one of the largest biotech parks in Germany. It offers founders and companies in the biotech sector circa 31,000 m² of state-of-the-art lab and office space at moderate prices. Start-ups can grow and thrive in the Innovation and Incubation Center; building sites on campus allow for future development options. Integrated into the health location of Berlin-Buch, the BiotechPark provides an ideal environment for life science companies. Excellent biomedical basic and clinical research coupled with clinical expertise has a long tradition here. The campus atmosphere facilitates the exchange of know-how, technology transfer and joint projects.
a place of infinite facets
Contact
Are you planning to set up a company in the biotechnology sector and are you looking moderately priced industry-specific laboratory and office space?
Please contact us: