The BerlinBioCube incubator opens in October 2023 for young biotech and medtech companies on the Berlin-Buch Campus.
On five floors, the BerlinBioCube will offer a total of 8,000 square meters of space for modern laboratories, offices, common areas for daily encounters and exchanges, and conference rooms. The building was designed by the architecture bureau doranth post architekten, Munich. The client is Campus Berlin-Buch GmbH, the management company of the Buch research campus. Construction work will begin in August 2020.
The construction of the new BerlinBioCube involves an investment of 55 million euros, around 40 per cent of which will go into technical equipment. The financing is made possible by subsidies from the joint task "Improvement of the regional economic structure" (GRW).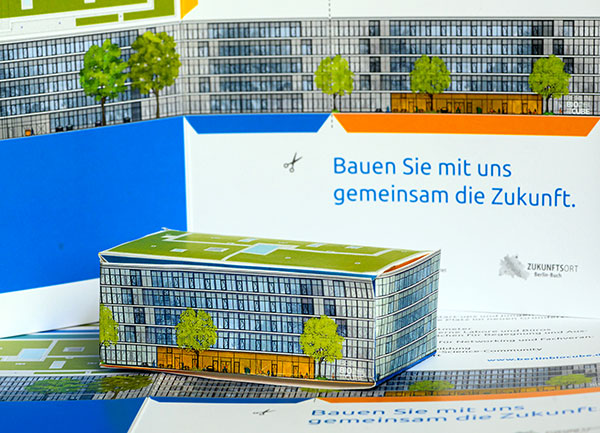 Build the future with us!
You can find the instructions for the paper craft on our
YouTube channel.
You can download the craft sheet
here.
BiotechPark Berlin-Buch
The BiotechPark Berlin-Buch is one of the largest biotech parks in Germany. It offers founders and companies in the biotech sector circa 31,000 m² of state-of-the-art lab and office space at moderate prices. Start-ups can grow and thrive in the Innovation and Incubation Center; building sites on campus allow for future development options. Integrated into the health location of Berlin-Buch, the BiotechPark provides an ideal environment for life science companies. Excellent biomedical basic and clinical research coupled with clinical expertise has a long tradition here. The campus atmosphere facilitates the exchange of know-how, technology transfer and joint projects.
Contact
Are you planning to set up a company in the biotechnology sector and are you looking moderately priced industry-specific laboratory and office space?
Please contact us: